Lekker progress - not so lekker virus | Lekker update #3
Hi you,
Chinese new year officially ended and if YouTube is YouTube or you've followed the news lately you already know about the growing coronavirus pandemic. Though it's too early to say with certainty at what scale the virus will impact the schedule, I can tell with certainty that it will have an impact. I'll touch this subject at the end of the update.
Let's first talk about the cool progress we've made and what's coming next.
Cable stress testing
New Lekker switch sample.
Coronavirus impacting progress
A Lekker Cable
Initially, we were planning to use the same stock Wooting cable with a different color cable organizer. This would keep it simple and avoid any risks. Since the Lekker Switches needed more time, it allowed us to do something cool with the cable.
Kevin and I went on the cable manufacturer hunt. We vetted a dozen manufacturers and narrowed it down to 3 that each offered different pricing. All 3 vendors made cable samples based on our requirements and sent them over for inspection. Kevin gave them all the designer glance and Jeroen (literally) tore the cables apart to see what they're made of. We still have a few open questions before we will pick the final vendor.
We opted for a braided cable embedded with Lekker colors, metal head, and Wooting logo. It's not the final cable yet, we want to make the Wooting logo a lot smaller. It looks a bit lame now.
The cable process.
None of us were familiar with all the cable lingo and our (assembly) manufacturer was also not much help. Our current cable was sourced by our (assembly) manufacturer. It had few issues that we improved on, but those were mostly aesthetics. Not actual quality issues. What do you test a cable on and how can you detect quality from garbage? There are so many vendors out there with different pricing and quality it makes your head go spinning.
I started with a few vendors that I had seen at a show and had shown promise. When I, together with Kevin, got into a conversation with them, we were loaded with acronyms and specifications that we quickly figured out. These conversations however quickly came to a dead-end, as it became apparent they were trying to push stock cables and weren't resourceful on custom cables.
Now that we were more familiar with the lingo and general specifications, we were able to create a request for quote (RFQ). An RFQ basically lists the requirements/product you're looking on which a vendor can accurately quote you. I had posted the RFQ on a sourcing website and the messages came flooding in.
The messages didn't all include quotes but rather tried to establish contact with me. For a few days, I was only filtering and vetting vendors that sent messages. Looking back at the whole process, the funnel roughly looked as followed:
Publish RFQ.
Filter out low-quality replies.
Reply to quality quotes with the same 1-3 essential questions.
Compare answers and filter out vendors with garbage answers.
Establish final product details and settle on a quote. (Minimum 3)
(When 3+ vendors) Filter out too expensive quotes and vendors with sluggish/unpleasant communication.
Create a product sample for inspection.
List issues/questions for each vendor. (Learn and see if you can solve it in the next sample)
Pick the vendor and make the final sample.
‍
I'd need to refine the above into fewer steps, max 2 words per step and a cool model drawing. Critical is to use words that can make cool acronyms.
Quote requests
Question vetting
Quotation details
Quality inspection
I call it the 4Q procurement process. You can see I added a few extra things in the model, for additional "complexity" feeling. Am I a consultant now? Call me, I charge 200$ an hour.
Alright, back to the "Quality inspection" step.
When Kevin received the cables, he looked for "designer" aspects. He checked the colors, the head, and cable flexibility. 1/3 vendor was very off from our Pantone 289, this happened also to be the cheapest.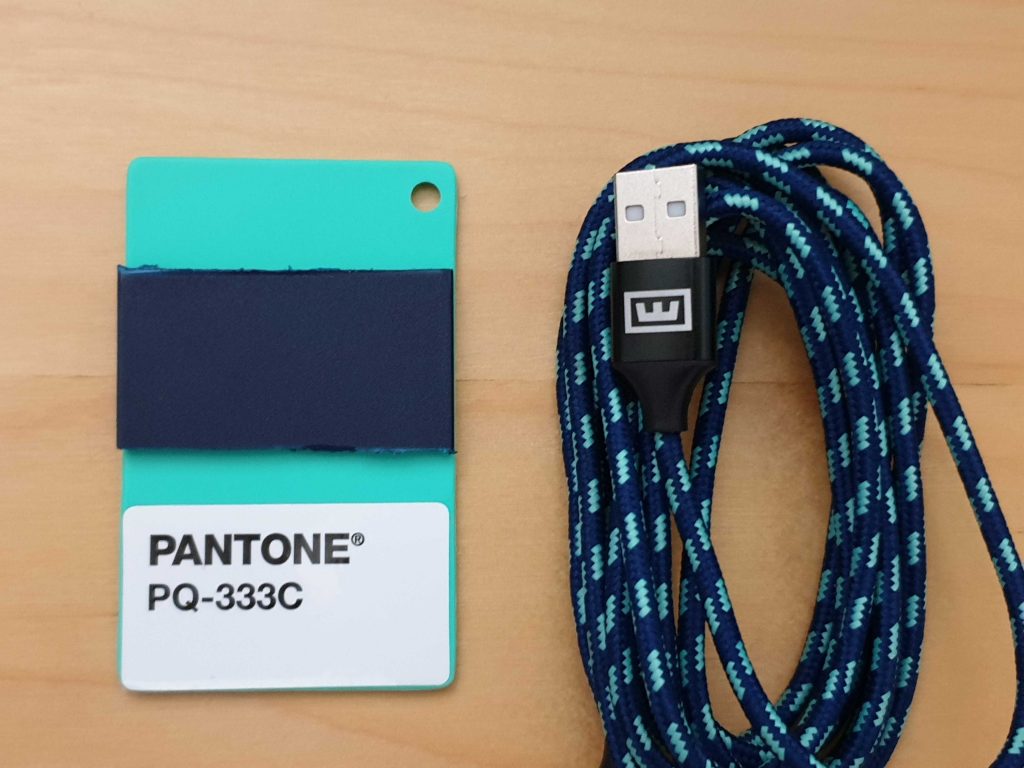 After the designer test, the cables were sent to Jeroen. He looked into what we can test the cable on other than tearing it apart and looking at what it's made of. He purchased an "EMP" looking USB device with an adjustable load.
The device can draw different amounts of current, so it can simulate devices such as power banks, phones or notebooks. Using this device he could test the cable's voltage loss and resistance. He used the original Wooting cable as a baseline for the tests and compared it with the cable samples. We were surprised to learn that the samples scored better than our stock cable.
Next, he did a simple test to see if the cables were grounded by connecting a multimeter to both USB head ends. If it beeps, it means there's a current and it's shielded. Then he cut the cables open and took a look at what type of shielding method was used. Shielding basically "shields" the cables from external noise electrical noise and also reduce the electrical noise produced by the cable. It's closely related to grounding since the "shield" needs to be grounded otherwise it has no effect and can even short-circuit cables. 1/3 cables were not grounded nor shielded.
Lastly, Jeroen cut open the heads to see the quality of the plastics, the shape, glue, connections and metal head. This was all widely experimental and hard to tell what is better, but it gave a lot of comparison material between cables. We were impressed by the header from the cheapest vendors, it had a detailed construction that kept everything in place. But overall, all 3 vendors did a good job here from what we were able to tell.
There are still a few questions we have for each vendor concerning the shielding method and header construction. Depending on their answers, we're picking our final vendor.
Lekker switch sample
In the previous update, I introduced the Lekker switch 4-hook system that prevented hot-swapping and why we decided to change the design. It's also what impacted the timeline and pushed the delivery to May. A few weeks back, I received the 1 cavity mold sample Lekker switch with the new design. It's very promising!
You can ignore the colors. The sample used in-stock materials/colors since it's only to check the mechanical structure. The final switch will still have its Lekker (333C) stem and opaque bottom case. About the latter.
We changed the bottom case material from Polycarbonate (PC) to Nylon (PA). Nylon isn't transparent like PC, we will instead make it milky opaque to allow the light to glow all around. We opted for Nylon over PC due to its softer and more flexible characteristics. This has more advantages than disadvantages:
Larger tolerance range for clicking into switch cut-outs.
Less chance to break the hook, click system or part.
Less wear when often hot-swapping the switches.
Softer landing for the POM stem.
‍
I have enough samples to install a good amount of switches into my Lekker Edition prototype and tested the keys on the analog signal, feel, sound and of course hot-swapping. I'll dive into the latter later.
My first overall impression was good. The feel was smooth, spring weight good, no "ping" sound in my sample group and hot-swapping worked like a charm. I noticed that the Lekker switches have a different sound signature than Flaretech switches. They are slightly louder in a "bassy" way and while typing you can feel a clear distinct end of the press. Good or bad? That's a preference. But it already got me thinking about the future of Lekker switches and our keyboards.
I was discussing with Kevin what could influence these factors and how we could control/steer it. There's a lot you can do with the switch construction to influence feel and sound, but from our experience, the mechanical structure of the keyboard plays a major role as well. The combination of both creates a distinct typing experience and sound signature. This is where luxury mechanical keyboards (made of CNC aluminum) excel. I wonder how the Lekker switch sound in one of these keyboards. But alright. I'm digressing.
We didn't want to re-invent hot-swappable switches. The majority of switches on the market copied the Cherrymx plate mounted click system, including Flaretech switches. It has a distinct "swan" shaped hook system and it works exceptional with Flaretech switches.
That said, the system wasn't made for non-soldered/dip switches and might not perform well within switch plates. The 2 small triangle hooks have a very small contact surface and the system relies on a tight fit from the plate. Furthermore, technically it is also an inferior construction for our Lekker switch that has an open SMD LED space instead of a dip LED.
That's why we opted for what I'll call the big triangle hook system. It has 2 large triangle hooks on both sides connected to an alone standing "wall" that allows you to retract the hooks inwards. These triangle hooks have a large contact surface and the wall provides a sturdy part.
This is not a "new" system and is used by few switches on the market. In theory, this should also allow a larger tolerance switch plate cut-out. Very important if we want to expand the Lekker switch to other keyboard brands. I put the switches to the test.
Kevin has previously made a few switch test plates that have different switch hole sizes on each row. This allowed Kevin and me to test the Lekker switch samples' hot-swappability for different tolerances.
The first row (14.05x14.05mm) is considered the "standard" and used for Cherry MX switches. However, this doesn't mean that everybody on the market has these exact measurements. It depends on the switches they use and the quality of the manufacturer (tolerances). Usually, this isn't a major concern when switches are soldered/dipped, since that will provide the necessary sturdiness. If you have one of those dip-switch swappable boards, this is still not a major concern. Unlike us.
The switches tested great on the standard size. Though, we wouldn't want it much larger for a good experience. The Wooting two uses a smaller cut-out size (14x14mm), this causes the Lekker switches to install very sturdy and depending on the cut-out tolerance makes it a little bit more difficult to take out.
We're still testing the switches on different aspects, especially now that all the factories in China are closed, we have more time. But I'm leaning towards keeping the sturdy fit and to accept that in few cases the switch is a little bit more difficult to remove. For two reasons.
Sturdier = less wobble for stable analog signal.
Greater compatibility for other keyboard brands and our future keyboards.
‍
On that note, I'm also glad to share that until so far the new system didn't seem to impact the analog signal in any significant way.
We're waiting for the switch manufacturer to open its doors again, confirm major parts, kickoff start of mass production (MP) mold and point out few adjustments for MP mold. If there are no issues with the switch manufacturer (virus), then it looks like we'll be well on our way!
Corona virus's impact on schedule
It's on the news everywhere, the coronavirus. If you don't know what I'm talking about, google it. Regardless of the schedule, we hope everybody will stay in good health and that the virus can be swiftly contained and eliminated.
I'm not entirely sure how much the virus will impact the schedule yet, but I'm confident it will impact our progress. The factories had already extended Chinese New Year until the 10th of February but with recent escalations, the government has ordered them to stay voluntarily closed until the 1st of March. Officially they should open again on the 18th of February. But I'm afraid that won't be the case except for (life) critical factories and factories that applied for an earlier date (with strict virus control regulations).The switch manufacturer is for us the most important factory at the moment. They might open again on the 23rd of February, but that might change. And they're not alone. All our suppliers are reporting similar to the same things. That said, there's more to take into consideration. Even if they can open earlier or once they open, their total R&D/Manufacturing capacity will be severely limited and we aren't "priority" customer (order scale).
Even though the majority of factories are located in Guangdong, and it's not one of the hot zones (yet?), a lot of employee's families live elsewhere. This causes a mass migration from Guangdong to (often) the countryside. But for the time being, these employees can't return back to Guangdong. The majority of Chinese citizens have to stay inside and (depending on the area) are only allowed to go out once every 2 days to get supplies. The roads are literally blocked and some places are on lockdown. Once the virus is contained and diminishing, public transport should open up slowly, but I suspect still very cautionary and limited traffic.
So, what this means is that… we're in for a ride and we can't say the exact impact yet. No matter what might happen, the most important is that we finish the Lekker switch. That's the key to everything. In the worst-case scenario, we can produce everything else outside of China. Yep, we brainstormed it.
If you recently joined the Lekkening, thanks a lot for your support! You should scroll through our Lekker Edition update page for more insights and follow us on twitter for the latest.
<3,
Calder,Team Wooting.‍
Talk with us:
Testing cables, hot-swappable lekker switches and COVID-19 trouble. Check out the latest Lekker update here👇👇👇https://t.co/l5p6kppPSI
— Wooting Keyboards (@WootingKB) February 14, 2020