Wooting UwU
We spent months searching for the infinite money glitch and if it wasn't for you, we would have never found it. Your world of anime profile pictures, quirky jargons, and vivid community has ascended our understanding of the meaning.

It's not about the money. It's about the passion, the dedication, and the work you put in to achieve ultimate pp or just own that one beatmap. At any cost, without giving up.

This is our spirit, this is for you, this is the Wooting UwU, your infinite osu! glitch.

Special thanks to all, 6284 backers who supported the Wooting UwU during the founders' campaign, and raised €472626.
Made for
you
You're always pushing the limits and demanding the best performance at any cost… but maybe just a little less than a keyboard. This is for you. The Wooting UwU packs all the features of a Wooting keyboard on just three keys. Rapid trigger, adjustable actuation point, advanced keys, remap, you name it, it has it.
Rapid trigger
Low latency
Compact and durable design
Destroy the
PP

barrier

Your accuracy, speed, and timing are crucial to keep Full Combo running, an unreliable device is death to your motivation, nothing worse than a choke by shoddy hardware. This is how we make sure you can blame skill, not hardware.
Rapid trigger
You can repeat a key press mid motion without needing to surpass a fixed reset point, making deathstreams effortless and forgiving for finger locking.
Adjustable actuation point
Adjust your actuation point towards your play style. No matter what your actuation point preference is, you can adjust it per key in 0.05mm increments from 0.1mm to 4.0mm.
Lowest

possible latency
We built the keyboard firmware from the ground up, optimized for input speed. Turn on Tachyon mode to prioritize keyboard scanning over other features. The UwUting will update every analog key position in less than 1ms, every 1ms.
Still a Wooting
keyboard
3 Analog keys and 3 digital buttons, yet as powerful as any Wooting keyboard.
It's also a gamepad
Not only is UwUting a keyboard, it also doubles as a gamepad. You can remap the joystick for analog control, or assign other gamepad buttons to use in a variety of games.
No feature limitation
The UwUting fully supports all features we develop(ed), such as Dynamic Keystroke (DKS), Toggle key, Mod Tap, and remap. Equal to any Wooting keyboard.
Wootomation
Turn your Wooting UwU into a macro pad using our open-source software Wootomation.

1. Dye-sub PBT keycaps
2. Lekker L45 switches
3. ABS top case
4. PC switch plate
5. PC light diffuser
6. Silicone dampening frame
7. (UwU RGB) Spill resistant PCBA
8. Silicone buttons
9. Mylar light blocking sticker
10. M2 screws
11. EPDM dampening foam
12. ABS bottom case
13. Silicone anti-slip pad
14. M2 screws
Meet the new lekker
L45
The Wooting UwU houses the new Lekker L45 switches. These feature a yellow stem and a lighter spring, designed to provide less fatigue and faster tapping. Broke one? Just swap it out for a new one.
25% Lighter compared to Lekker L60
30 - 45 cN Key force
100.000.000 clicks lifespan
0.1 - 4.0 mm actuation and reset range
Linear smooth feeling
MX (cross) keycap stem
Factory lubed for that lekker feel

Three
analog

keys

Designed to feel like your regular keys, so you'll feel right at home.
Three
digital

keys

Quickly perform reset, quit beatmap, profile cycle or remap it to your preference.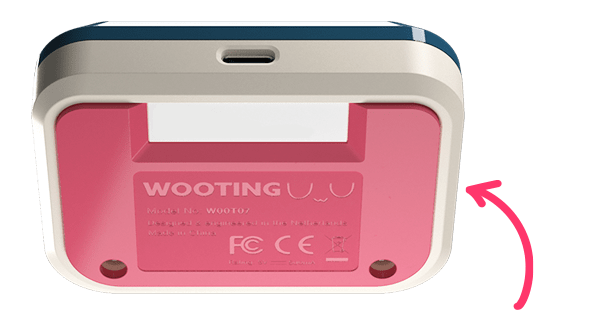 Firm on your
Desk
The anti-slip silicone pad will keep it in place.
Go for
RGB
The UwU RGB is surrounded by an continuous RGB bar that is customizable over 15 zones with unique RGB effects. It's hard to stop looking at it.
Wootility
Easy to use software
You won't need to watch youtube tutorials to get started or break a nerve with the simplest task. The Wootility is simple to use and easy to master.
All stored on the UwUting
No need for background software. All the features work straight from the Wooting UwU and all your settings are saved on-board.
Wootility on the web
Quickly make changes through the Wootility.io or install the local app. No matter if you use Windows, MacOS, or Linux; we support all operating systems.
Remap

any key

You can easily map each key however you see fit over multiple layers and profiles with a simple drag and drop interface. You won't be forced to relearn your keys or write a piece of code for a simple remap.

The UwU
You like to keep things simple and to the point. No fancy RGB or accessories, just simple tapping goodness.
The UwU RGB
You'll mesmerize anybody watching you play with RGB on the top, side, and around with custom effects. Who knows, the RGB might help you get through those tricky patterns.
The UwU RGB - Stealth Edition
A stealthy UwU without giving up on that RGB Goodness. Specially made for those who prefer black or otherwise can't take the amount of UwU.
Gain some weight
With the brass bottom case add-on you can triple the weight of your UwU, for that hefty premium feel.
Collect

them all

We wanted to help bring the osu! community closer together. That's why each UwUting comes with four (random) additional keycaps made by prominent members of the osu! community. These collectables are not sold separately, so you better start trading with the community
tokaku
Kachulu
WhiteCat
ninerik
xooty
lifeline
Mathi
Spazza17
Squashyboy
Sytho
khz
Akolibed
DigitalHypno
Zylice
RyuK
shimon
Rafis

Adjustable actuation point
Adjust the actuation point in 0.05mm increments from 0.1 to 4.0mm.
Rapid trigger
Rapidly press keys without fail to survive deathstreams.
Low latency
Processed within 1ms, every 1ms.
Remap
Map the keys to whatever you want.
Spill resistant
Protected with a water resistant coating to endure spills and gross situations.
Easy to use software
Quickly make changes in your web browser, or install the local app for Windows, MacOS, or Linux.
4 year warranty
We're confident in our quality, so you don't need to. The LEDs have a 2 year coverage.
Size and weight
63 gram
7.5 x 5.7 x 2.7 cm
2.95 x 2.23 x 1.06 inch.
Wooting UwU
Additional 3x L60 switch
4x Collectible Keycaps
Braided USB cable
4 Year warranty

Wooting UwU RGB
Additional 3x L60 switch
4x Collectible Keycaps
Braided USB cable
4 Year warranty
Travel case

Wooting UwU Stealth
Additional 3x L60 switch
4x Collectible Keycaps
Braided USB cable
4 Year warranty
Travel case

Q.

What is your warranty policy?

You receive a 4 year warranty on the Wooting UwU covering workmanship and materials during normal use. And a 2 year warranty on the LED backlight. When you have a defect, we will offer free replacement items or local repair. When you are outside the warranty period, these options are still offered for a low cost fee.

The warranty goes into effect on the date of shipment to you, not on the date of order/pre-order.
Q.

Can I cancel my pre-order

Anytime before shipment you can cancel and refund your pre-order. Please cancel the order in the hub.wooting.io or contact customer service to proceed: social@wooting.io
Q.

Do you deliver outside of the EU and US?

We ship worldwide using services from the Local postal services, UPS (Express), DHL (Express), and DPD International. When applicable VAT is deducted from your order at checkout. Please note when we deduct the VAT from your order, we do not cover your country's VAT and import duties. Learn more.
Q.

What is your return and shipping policy?

We have a 30-day no hassle return policy. You can read more about our return policy here and shipping policy here.
Q.

Can I use other brand of switches?

The Wooting UwU has hall-sensors on the PCBA to detect the magnet inside the Lekker switch. Without the magnet it can't detect the switch. At this time there are no other available brands with magnet switches that have the same construction. It is not possible to use any other technology switch (e.g. CherryMX) on the Wooting UwU.
Q.

Is the UwU compatible with other keycaps?

You can install almost any 3rd party keycap set on the Lekker switch. If the keycap has the (Cherry) mx stem mount, it's compatible.
‍
If you have a Cherry profile keycap set, the Lekker switch also fits without a problem. If there's any obstruction, you can take out and install the Lekker switch south facing.