Crossing the t's| LEKKER UPDATE #6
The last update "We Overcame Big Challenges", was an information bomb. We were in the midst of this drastic change making heaps of progress due to switching from switch manufacturer.
In short, we were working with Huano when developing the original Lekker switch but Huano was moving slow. Especially when we pushed for a few important changes. Going into 2020, it became clear we heavily relied on their progress, it was concerning for the project. We started working on an alternative.
Eventually, Huano decided that they were reluctant to go through with the important changes and recommended us to stick with their original design. This was a dealbreaker for us, we decided to go with the alternative.
That alternative was to use one of Gateron's recent magnet switches, an option we didn't have in 2019. This required a few massive changes to our PCBA and keyboard case design. But it would ensure that we'd have a reliable switch supplier and quality switches that included the improvements we were looking for.
This carved a new path for how the Lekker switch would come to life, but it didn't change any of the goals we set out for the Lekker switch.
Goal 1: Make significant progress with analog input technology.
Goal 2: Make the switch accessible for 3rd parties and hobbyists.
After all, the magnet switch is just a piece of the puzzle that makes the Wooting two Lekker Edition development. The Hall effect sensor, PCBA design, and firmware development are other pieces that complete the puzzle.
In hindsight, I'm glad we made the decision and I question myself if we shouldn't have done this earlier. Switch development is tricky and these supplier dependencies suck. Perhaps when we have a ton of volume and more purchasing power, we're able to turn the tables on these dependencies.
Anyway, we're finally able to put the pieces together and ramp up for mass production. It's very satisfying and a relief to see everything materialize.
Let's dive into the puzzle pieces.
Gateron x Lekker switch
We settled with Gateron to develop a collaborative version of their existing Magnet switch. Dubbed as Gateron x Lekker switch.
This means that the switch will still carry the Gateron brand on the switch, but it'll have Lekker's unique characteristics. This includes the spring weight and color design of the switch. And if I may say, it looks and feels awesome.
Stem: We opted for the signature Lekker Pantone 333 color
Upper body: It's completely transparent for optimal RGB dispersion and an inside look.
Lower body: Milky white to diffuse the RBG light around the case
The original Lekker switch had a linear spring weight from about 40 to 65gf. We did the same for this version, but the result was different from expected. It felt heavier, and it was hard to determine why. The specifications were nearly the same, even a bit lighter, but when pressing the key it felt heavier. We concluded that the spring's larger diameter must play a role in the "feel".
https://youtu.be/1vtLm9PGfec
That's why we opted for a slightly lighter spring that starts at 40gf and ends at 60gf with a linear curve. It felt like the perfect balance to us, where it feels comfortable to type and still provided enough counterweight for analog control.
This first Gateron x Lekker switch type will go under the name Lekker Linear60. In short, L60.
I'm satisfied with the result, and it went extremely fast with Gateron to finalize the specifications. We only went through 2 samples runs. The first sample already nailed the colors and the second the spring gram force.
A sound comparison
Kevin took the chance to compare the original (Huano) Lekker switch typing sound with the Gateron x Lekker switch on a Wooting two.
Keep in mind, that the sound recording quality is low, the keyboard is an empty shell (no PCB inside) and each key position has its own sound signature. It doesn't represent the final result, far from it, but it gives an equal ground comparison between the two switches.
https://youtu.be/ulpDOZeX3i4
If I may say, doesn't that sound like an improvement? It's a bit more suppressed and base-y. And the feel? it's buttery smooth from all angles. You're not going to be disappointed 💕 .
PCBA Development
In the last update, I shared that we made a few big changes to our PCBA to fit the Gateron x Lekker switch. In short, the switch construction is different and has the magnet centered opposed to the side. We had to move all the components from the top to the bottom of the PCB, adjust the sensor sensitivity, and re-route everything.
We had first developed a small 4 key PCBA to test the basic drawing concept and sensor sensitivity before designing the complete keyboard PCB.
We had decided to outsource the grunt work for drawing the keyboard PCB, this was more effective and gave Jeroen more time to work on the firmware and Wootility. Did you see the Remap update?
Jeroen is superhuman, but he's not very experienced in making PCB drawings. He's able to make it, understand it, change it, but it'll consume a lot of his time for what is basically grunt work. Kind of like copy-pasting a bunch of information from one to the other page. No magic formula or trick to import it all at once, just skill built by experience.
The result from the freelancer wasn't amazing, after a closer look Jeroen noticed that he had cut corners to save time and Jeroen ended up spending time cleaning it up... Done!
Uh, no.
Over the last two updates I had shared that we switched from assembly factory, and the benefits of that decision are already coming to fruition. An assembly factory doesn't only assemble products, they're often vertically integrated. They'll often produce key components (e.g. plastic injection), have their own trusted suppliers (thorough screening), manage the project, and coordinate purchasing. This assembly factory also has an R&D team with a boatload of experience in making electronic products.
Their electronic engineer was able to provide a lot of feedback on how we could improve the PCBA longevity, prevent issues, and effectively reduce the defect rate. A lot of things that the previous factory simply didn't consider. Jeroen got to learn a heap of new things but it also caused him to tinker on the PCBA drawing much longer. Every step closer he got, more feedback flowed in.
It's only this week that he was able to round everything up. To save time, we decided to make a rapid prototype PCBA to confirm as much as possible before making the final engineering sample with the assembly factory. A process that requires a lot more bureaucracy.
Meanwhile, purchasing started to ramp up. A lot of the key components are purchased in advance for mass production, it's coming.
Wooting two Bottom Case
In the last update, I shared that we had to make a new male core mold for Wooting two bottom case, so we can fit the Gateron x Lekker switch. In short, the Lekker switch has 2 plastic pins that go through the PCB and stick out underneath. However, the bottom case has a ribcage that obstructs some of those pins on various key positions.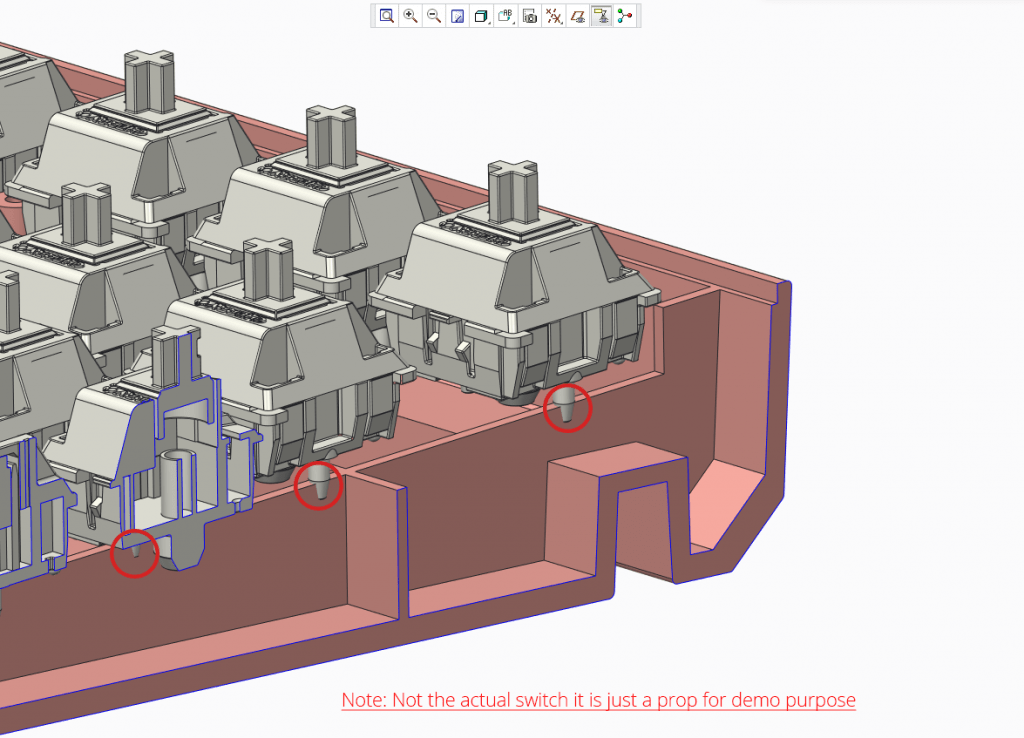 Not long after I published the previous update the mold was sent to the original mold factory that got started on the new part. To get an idea of what this process looks like, they basically need to carve in extreme precision our keyboard shape from a huge block of steel using, essentially, a super taser. This takes a lot of time.
They had a short delay due to people shortage. But last week they finished and made the first samples. Unfortunately... they dropped a copper nut in the mold and damaged the female mold side (the one that needs no change). It resulted in a smudge on the side of the bottom case.
Accidents can happen, thankfully they were fast to take action and repair it. But it delayed the mold by another week.
We have time before we need the bottom case for mass production. But we need a sample as soon as possible. Otherwise, we can't verify the structure and integrity of the build with the PCBA installed.
Kevin expects to receive the first sample by next week. Then he can do an initial inspection, but he'll need to wait for the rapid prototype PCBA to verify fit. If there's any issue, we can still make modifications to the mold; hopefully, it all checks out. Then we can tick this box off.
Update: Bottom case samples were shipped out.
Other Items
This is a short segment, but it requires some merit. There's a lot of other details that we've worked on including the Lekker Edition packaging, (barcode) labeling, master carton, FCC/CE, testing methods, keycap/switch puller and more smaller details.
The final product packaging, we want to keep a secret until you receive your Wooting two Lekker Edition. We don't want to spoil the surprise and want maximal impact when you receive your brand new Wooting two Lekker Edition.
The keycap/switch puller is interesting. We're not able to use the previous trusted orange switch/keycap puller from the Wooting one/two anymore. Reason, the switch puller doesn't work well with the Gateron x Lekker switch. Instead we're going to provide a separate (wire) keycap and switch puller.
We're a little conflicted with the pullers. Preferable, we'd have made a custom keycap and switch puller. But at the moment, we can't find the budget and time to pull it off. That's why we're going with standard OEM pullers for the time being.
I'll show and tell when we have the final samples.
Timeline
To conclude the above developments. For now, we can still resume with the proposed schedule on the Lekker Edition project page. The trial production is delayed to August due to the pending mold and PCBA. It does mean that we're starting to touch on that buffer month, but doesn't necessarily move everything a month later.
You can be assured that our plan and goal is to deliver within 2020. We're also getting close to a point we want to release the Wooting two HE (now the official name) pre-orders. This is the followup keyboard that'll come in 2-3 months after the Lekker Edition.  
We must get it running soon, or else we'll have Chinese New Year pushing it back by an additional 2 months. But we also don't want to be ahead of ourselves and first need to verify the new assemble of the Wooting two Lekker Edition before launching the Wooting two HE. But if we don't release it soon, then it's preventing us from locking down models and make expenditures for the production.
Discord's Request
Before working on the update, I asked on Discord's Lekker channel what people would like to know or see in this update. I have already covered a couple of them. This is what's remaining:
Lekker Keycaps
https://youtu.be/5UcXZNRGt9Q
The Lekker Keycaps were finalized months back. You can preview the keycaps and all the language layouts below.
PBT Dye-sublimated
The keycaps are made of PBT plastic, slightly grainy surface, and 1.3-5mm thick around the edge.
The characters are dye-sublimated. This basically means that the dye is submerged with the plastic by a few 0.1mm. This is only possible with PBT keycaps because they can withstand the heat required to submerge the dye. ABS plastic will simply start to warp and melt.
PBT plastic doesn't wear fast and lasts a lifetime. That's why the dye won't fade over time and keep a vibrant color.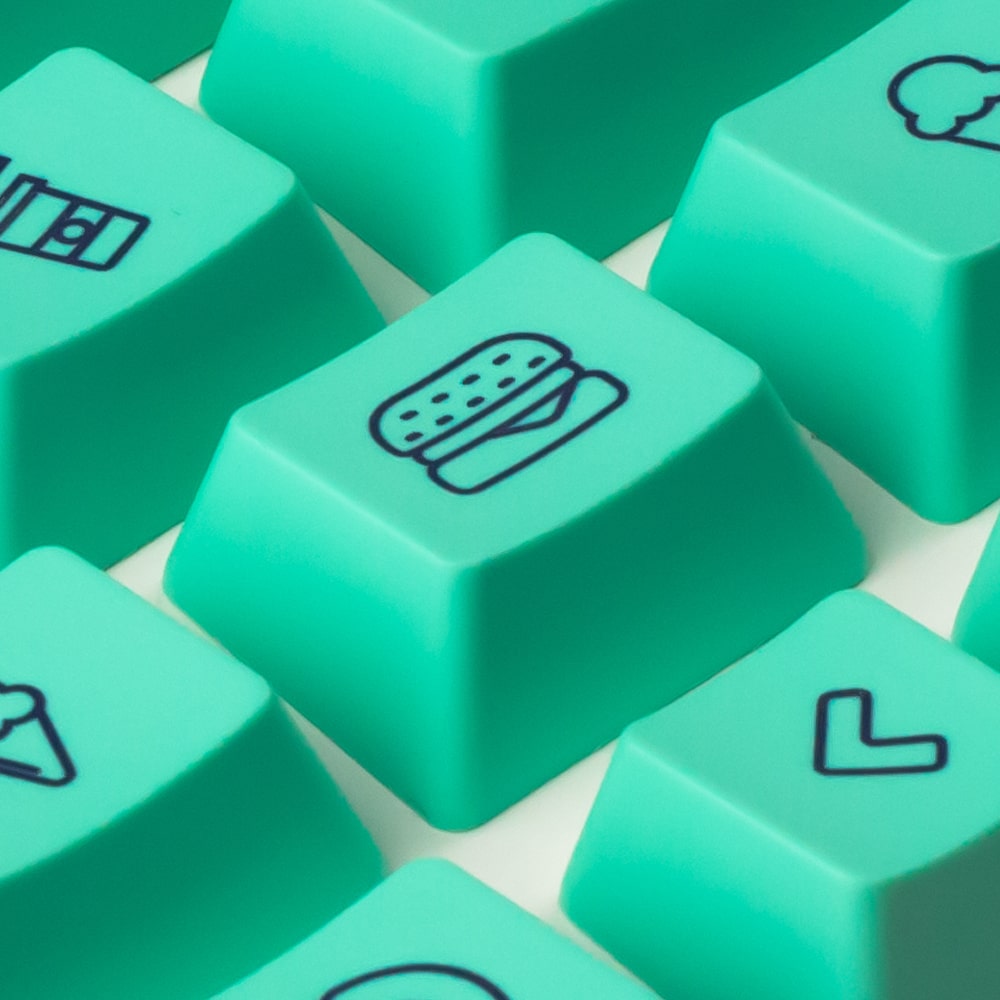 The Wooting two Lekker Edition will come installed with the Lekker keycaps and include an additional novelty spacebar. The snackbar, A special edition spacebar for Lekker.
There's also the Snackbag, that completes the special edition spacebar, but this will not be included in the Wooting two Lekker Edition and is available separately on the store.
Now, the tricky part of offering these keycaps is dealing with all the different ISO languages. Our solution for it is to simply install all the ISO keyboards with US English ISO keycaps, or else known as US English International ISO.
Then with the ISO keyboard we add an additional box with all the keycaps you'll need to convert it to either one of these languages:
English UK
German
Swedish, Norwegian, Finnish, Danish (Nordic)
Spanish
Offering these additional keycaps increases the cost of all our ISO keyboards, and complicates the entire process. We try to recoup some of these additional costs by offering a by-product of the Language keycaps. The Snackbar and Snackbag on the wooting store.
We're not able to produce per keycap. The entire keycap set needs to be manufactured, regardless if we need one or fifty. Anything we don't use will be discarded by the keycap factory. Instead, we filled the remaining keycap in the set with different legends. Then we converted the additional keycaps into the Snackbar, Snackbag, and what we call internally "funny keycaps".
That said, this "remaining key" Snackbar (spacebar) isn't used for the Wooting two Lekker Edition, instead it's used for the separately sold Snackbar on the store.
In contrast to the regular keycaps, the spacebar can be produced as a stand-alone. To simplify the process, we placed a separate order for the Snackbars included in the Wooting two Lekker Edition.
The funny keycaps are used to add randomly to shipments we send, or small events we run. They're used as promo material.
Bonus
While I was making the few recordings for the Keycaps and switches, I took the chance to show the prototype that's been teasing me this whole time.
This keyboard was used for the Rapid trigger blog.
https://youtu.be/CiIcyKXcdGU
Closing words
I'm confident in the direction we're taking and the progress we are making. This year has definitely proven to be difficult for this project and increased weight on our shoulders. It's exciting to see how close we're to mass production, but at the same time, I'm fearful of issues arising. It'll be an incredible relief and feeling of accomplishment to get the Wooting two Lekker Edition through a successful production and under your hands.
Lastly, due to COVID-19, we haven't been able to produce any factory vlogs this year. I'm afraid we won't visit the factory during the Wooting two Lekker Edition production. Instead, we're going to try to get as much as possible footage through our assembly factory and quality control partner to share with you.
There's also an idea to publish more videos on YouTube using an easily digestible and create-able format. We hope that it can fill a gap between less frequent lengthy blog posts (oops) and hard to digest bi-weekly livestream information.
Thank you for the patience, and incredible support 👍 We wouldn't be here without you.
<3,
Calder