200k Stretch goal - Unlocked & more
We passed the 200,000 EUR stretch goal and now have well over the 1000 founders 🤩. And the campaign is still steaming full force. I'm exhilarated and thankful for the immense support for the campaign. Thank you!

The inverse 5-sided dye sublimated PBT keycaps in Take Control theme is now officially a go. We're going to continue the development and you will exclusively receive a massive discount on the final keyset. When I have more information on the total cost and we're closer to the final product, I'll share more information on the retail price and discount.

Until then, we're focused on the complete design, quality, and details of the keycap set. Last week we ran another pol on Twitter and Discord with different design iterations taken from the original pol.
‍

We're still open to feedback on this design, make sure to leave it in the comments below, Twitter, or Discord. There'll be another pol coming on with a focus on icons designs for the legends and their placement on the keycaps. This pol will come out later, as it needs a bit more creative power. Keep an eye on the Discord announcement channel and our Twitter for it.

Next stretch goal?‍
We decided to not add anymore stretch goal. We're nearing the end and we have already decided to add multiple changes without requiring a stretch goal. No need to further complicate everything. That's not to say we don't take the feedback given, such as different spring weights. But we're not going to link anything more to the campaign.


Change your Name on the Box

If you regret your choice or are unsure what option you chose for the name on the box, you can now preview and modify it in the Orderhub. You can access the Orderhub on the Wooting 60HE page right top menu button or jump straight into it here. You only have until 10 November 2021 to make adjustments.

‍

If you didn't activate your account after placing the order, please search your email for the original email. The email link still works. Due to the time sensitive nature of the request, only if you can't find it and you really tried, DM me on Discord (Founder, OhMyOats | Calder) with your order number.
‍
If you had purchased it for somebody else, go by a different call name, or any other good reason to change the first or last name, you can let us know per social@wooting.io with reason and name. Please note that this will also change the shipping contact name. The billing name will remain the same. We will not accept any changes from emails that come in after 10 November 2021.

Pssst, about those stabilizers

We listened to the feedback from the community. There were some concerns that yellow stabilizers are less desirable when you start fitting on different keycaps or swapping the module to another case. This is a strong argument, so we decided to look into alternatives.

Our preference went to going full transparent with perhaps a (black) color shade. Unfortunately, this is not possible due to the material used. The housing is made of Nylon and the stem of POM. These at best have a milky translucent option.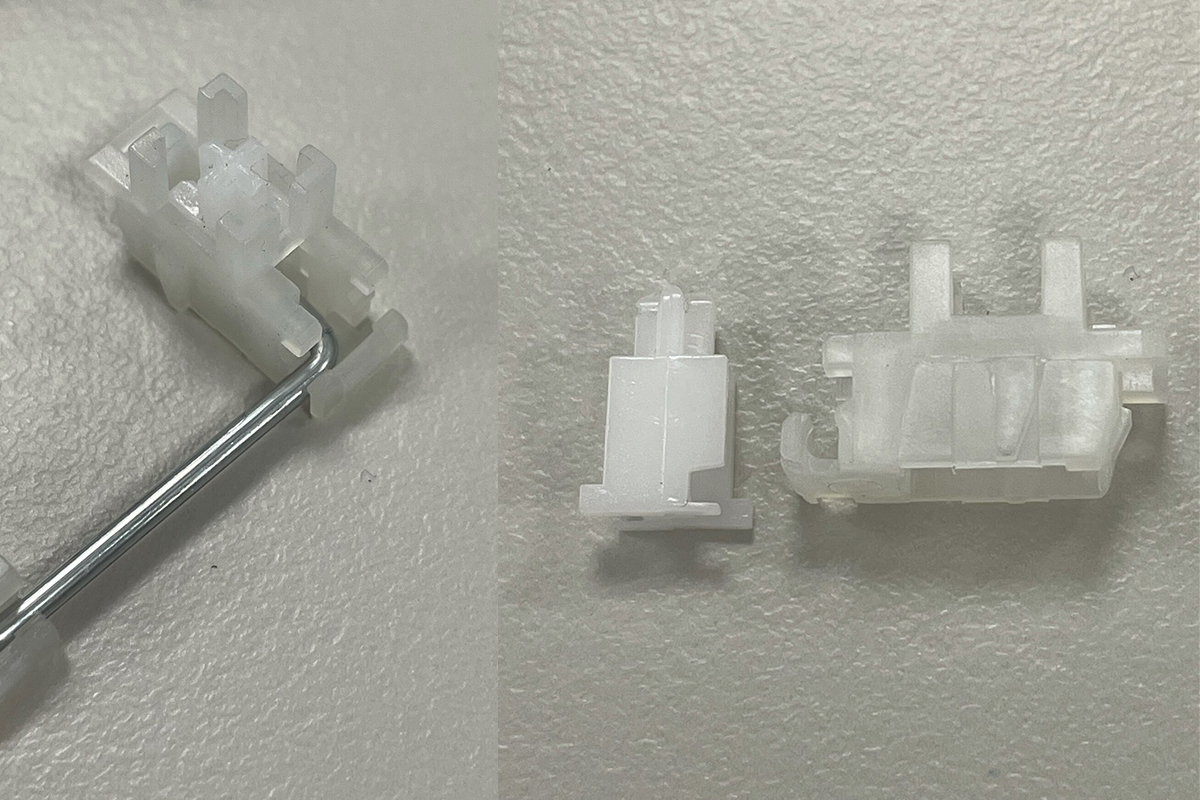 We're now looking into using a soft white to match the white steel switch plate. If this doesn't pan out, we're going to revisit the above translucent option. If you have any color suggestions, you're welcome to leave a comment below and let us know.

Help share the campaign!

We love communicating with you, but we're terrible at broadcasting to new people. Marketing. If you want us to reach the stretch goal, share the campaign with everybody! Most people on Discord know about us from others, not an ad.

You have gaming buds. Let them know about the Wooting 60HE. You have co-workers. Let them know what'll be coming to your desk. Or do you know an awesome tech/gaming YouTube that'd love our work? let them know we exist.

If you use Facebook, make a post. 
If you use Twitter, share our
If you use TikTok, dance in front of the 60HE campaign page (I have absolutely no clue).

Thank you!
<3
‍
‍