The best mechanical keyboard we've made
We've been brainstorming, tweaking and testing all the proposed alternatives and ideas from the Mechanical Keyboard (/mk) community, to further improve Wooting next generation mechanical keyboard.To briefly summarize, we had reached out to the /mk community on both Reddit and Geekhack for feedback on our keyboard design. Many users shared their opinion and concerns, and we listened. Ultimately we stood with our core concepts and sprinkled it with your magical feedback.Now, we've finalized all mechanical parts and made 3D renders of the new design. We have to admit, that we had a hard time making the keyboard look as realistic as possible, but that will change as soon as we've finished the first prototype version.We recommend you to take another look at the old design while going through the new design. Without further due let's jump into the new 3D renders of the keyboard!
Wooting's Core Design
[caption id="attachment_296" align="aligncenter" width="1024"]
Angled front top view[/caption]We went through many iterations of the keyboard. But our original design had the golden ratio. So we stuck with it and tweaked all the details for an even sleeker look.The colors used at this moment are not definitive; we've used a combination of black-gray-white for the best comparison with our old design. The top plate is made from aluminum with a plastic bottom case that's edged around the plate. Imagine the aluminum in different colors or in an hydrodrip theme to your liking. We'd love to hear what you'd like.
Sleeker profile
[caption id="attachment_298" align="aligncenter" width="1024"]
Side view[/caption]We've really pushed the design and added every detail. We shaved some thickness from the entire design, to give it a bit sleeker look.
New Keycap Legends
[caption id="attachment_297" align="aligncenter" width="1024"]
Top view[/caption]Even though we recommend everybody to use aftermarket keycaps, it doesn't mean we're not picky with our keycaps. We've overhauled our legends and icons to give it a more adherent feel. You can't see it clearly in these renders yet, but it will feature backlit keys.
Bottom-side Overhaul
[caption id="attachment_295" align="aligncenter" width="1024"]
Backside view[/caption]We've changed the entire bottom of the case. Previously it was very immature and we hadn't put much attention on it yet.
Special cable gutter
[caption id="attachment_293" align="aligncenter" width="1024"]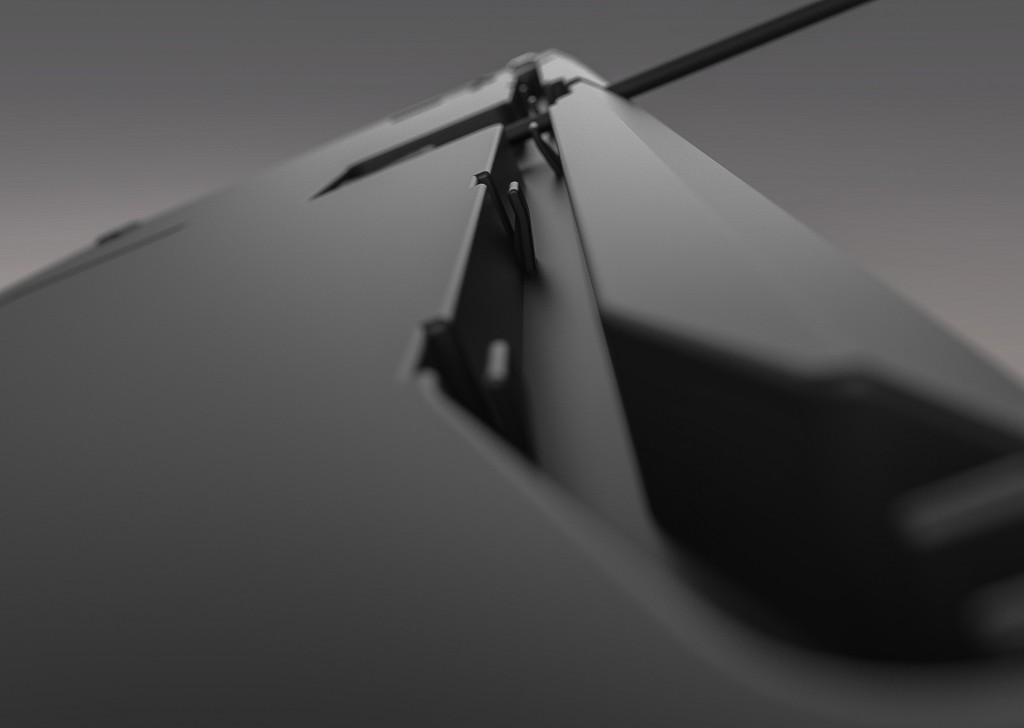 Unique cable routing[/caption]The cable gutter now has three different back exits. If you look closely you can see there are special clips that will firmly hold the cable in place. It's an entirely different approach from any other manufacturer on the market.
Micro-USB
[caption id="attachment_292" align="aligncenter" width="1024"]
micro-USB with cable click[/caption]We're aware that many other keyboards opt for mini-USB, and we almost did too. We've chosen to definitely go with micro-USB. It's more durable, widely available and it's from this (next) generation until we've all adapted to USB-C.It's not in the render, but the final keyboard will have a braided USB cable.
Sweet Feet
[caption id="attachment_291" align="aligncenter" width="1024"]
Rubber ended flip feet[/caption]We opted for quality keyboard feet with an entire rubber end. Also, note that we've redesigned our anti-slip feet as well.
It's in the details
[caption id="attachment_299" align="aligncenter" width="1024"]
Back view[/caption]We're extremely happy with the result, and just a click away from producing the first prototype version. In the meanwhile, we're head deep into the software development. An exciting process that in time will show some revelation about the next generation future.Once again, we want to thank everybody for their valuable feedback, and definitely don't hold back to share it again. We always welcome you to share any form of feedback, even if you find the keyboard an abomination.Share your opinion
Overview
[gallery size="large" link="file" ids="https://blog.wooting.nl/wp-content/uploads/2015/10/wooting87_11.jpg|Final keycap model,https://blog.wooting.nl/wp-content/uploads/2015/10/Wooting_87_10.jpg|Wooting logo front bezel,https://blog.wooting.nl/wp-content/uploads/2015/10/Wooting_87_6.jpg|Angled front top view,https://blog.wooting.nl/wp-content/uploads/2015/10/Wooting_87_7.jpg|Top view,https://blog.wooting.nl/wp-content/uploads/2015/10/Wooting_87_9.jpg|Back view,https://blog.wooting.nl/wp-content/uploads/2015/10/Wooting_87_8.jpg|Side view,https://blog.wooting.nl/wp-content/uploads/2015/10/Wooting_87_5.jpg|Backside view,https://blog.wooting.nl/wp-content/uploads/2015/10/Wooting_87_3.jpg|Unique cable routing,https://blog.wooting.nl/wp-content/uploads/2015/10/Wooting_87_2.jpg|micro-USB with cable click,https://blog.wooting.nl/wp-content/uploads/2015/10/Wooting_87_1.jpg|Rubber ended folding feet,https://blog.wooting.nl/wp-content/uploads/2015/10/Wooting_87_4.jpg|Anti-slip feet"]