Smell of pumpkin spice latte, Wooting news... It's October
A personal notation
We're a 3 man company that covers everything from Production to customer service and it's tough to prioritize. It's very easy to fall into a trap of being busy but not productive.Answering customer questions, processing orders, dealing with emails, product functions and discussing "things". All things that keep you busy and shouldn't ignore but aren't productive at all. These are the day-to-day that suck you into a comfort zone and give you a false sensation of things running well. Busy, not productive.The reality is, you're paddling against the stream without a sense of direction.That's why it's so important to have a moment to reflect, revise and refuel. At these moments, you can take the time to breathe and realize what the situation is.The funny thing is, this happens in a place of business but can easily apply to your personal life as well.Alright, let's go into this month's updates.
Production Batches
This week is a new production for:
06/11/2017 UPDATE EDIT: The UK/DE ISO delayed due to keycap manufacturer :(. Everybody affected by the delay is contacted by email. New production date on 18 November.If you have an order, we expect to deliver them at your door ending November. The production date had suffered a small delay due to improved switch stems (see below).You can already and still (pre-)order the keyboards on the website.
Alternate, Benelux
We're excited to announce that we have a new distributor in the Benelux, Alternate. They're reselling the Wooting one and have stock right now.Alternate offers great service and attitude towards their customers in Benelux. Something we can stand by. It also helps that their Netherlands division is a cool bunch of people.
Wootility
The new Wootility is quite exciting. A couple of highlights:
Major back-end overhaul, which you won't notice but makes things go a lot faster on our end
Reorganized the profile cards to make place for...
DKS in the analog profiles
I want to focus a moment on DKS. In the analog profile, it will give you an endless amount of cool things you can do.For example, PUBG you're now able to walk analog and do flawless crouch-jumps.If you follow the PUBG analog profile guide, then you can add a spacebar+C DKS in the same profile. Like so:DKS key: Spacebar (or anything else, if you want to alternate Spacebar jumps)Actuation 1, 1.5mm: emptyActuation 2, 1.5mm: Spacebar + C
The great thing is that you're not forced to use analog, you can also only use DKS and digital keys in the analog profile. Unbind all the Xinput/DirectInput keys, or more extreme, turn off Xinput (in the general settings).The new Wootility is in public release now.
Re-do the analog curve
We are not too happy about the current analog curve implementation. It is easy to use and quite to the point. The problem; it's mathematical, not everybody understands it and it has limited control.We had a moment of insight during a random moment of the day and decided it had to change. It's not part of the next update, but it's coming fast.The new analog curve will change into an analog gradient. It will become more visual, interactive and allow advanced controls. We hope this will make it easier to understand and open up more possibilities to play around with.The first rough-rough sketch:
We'll go into more depth in another post.
The Feedback Survey
We recently sent out a feedback survey to everybody with a Wooting one. By accident, we also sent it to a few still waiting. Oops, sorry for that.The first reactions on the survey are great, and already more than 200 Wooting one owners filled in the survey! We will share these results in the next blog post.
Product developments
Switch stem improvement
The current switch stem can break if pulled out at the wrong angle. Especially with the modifier keys. It's a problem we had addressed with growing concern to the manufacturer.The problem exists because the stem of the switch is POM plastic for the optical lens inside. This is also one of the reasons the switch is so extremely smooth. The con of using POM, however, is that it's stiffer and easier to snap. ABS, in contrast, will flex a bit more.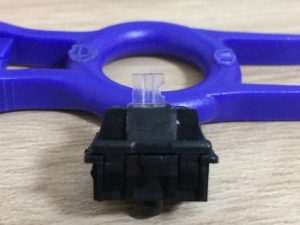 The manufacturer has decided to address the issue and fixed it by adjusting the small bite in the stem. It's the injection and weakest point.The new switch stem is part of our upcoming productions. We will also use them for our separate switch boxes.
Keyboard Silence Material
06/11/2017 UPDATE EDIT: We had to cancel this because the material's fireproof level wasn't up to our standards. We're now looking for different material.A mechanical keyboard makes noise, that's a fact. I've written an entire blog post about it in the past. The Wooting one is definitely not the most silent keyboard but we hadn't realized it was that noisy. Thanks to your feedback it got addressed and we've been working on a fix.We found out that the bottom case of the keyboard is too hollow, causing a drum effect when typing. That's why we've made a custom foam pad that can be installed underneath the PCB. It will soften vibration and fill the hollow areas.I've used it over the last weeks and it makes the keyboard much more snappy and removes that hollow clack sound. We will introduce the pad in the next two weeks at a small price and show you how to install it. You can also buy similar material in a DIY store and fill the hollow areas underneath the keyboard.
9 Keycap set
We've been working on a 9 keycap "gaming" set to get more familiar with the keycap scene. With our ultimate goal in mind; a full set custom made (by Wooting) double-shot PBT backlight keys.The 9 keycap set are double-shot PBT backlight keys. They have a very clean injection, very good backlight balance, thick borders and good design with that slight rough PBT surface. The set will include the keys: Esc, W, A, S, D, Left, Up, Right, Down.
We're now in a sample stage, and opted for a very dark purple color based on feedback on Discord and Twitter. We expect it to arrive in mid-November.When it's deemed Wooting worthy, we will run a production and make them available for sale.
Feedback here
As always, let us know what you think and share your opinion. We are always here.
Comment below
Twitter
Discord
Reddit
🙌🏼  Calder