Look at this Wooting mechanical keyboard
Note: We updated the design read more about it here
We're very excited to show you our next generation mechanical keyboard design. It's nothing revolutionary, but definitely a feast for the eyes! So sit back and enjoy this intimate moment with your upcoming keyboard.
Ok maybe I'm a bit over the top, but we've made some interesting design choices, that we're going to talk you through. We've bulleted the essentials, and elaborated underneath it. Go through it however you like. Be critical, be harsh, but be fair and share your opinion with us.
I also want to note, that we're not covering any of the distinctive (core) features, but solely focus on the keyboard design.
Without further due, lets start with a 3D photo realistic render.
Wooting Mechanical Keyboard
In our previous blog we explained that we're aiming for; a no-nonsense and clean design with gaming at its core, that you can use in both home/private setting as in a public/office setting. We believe our design hits that balance between playfulness of a gaming keyboard and professionalism of a raw mechanical keyboard. So lets break it down.
Minimal Amount of Parts
We've designed the keyboard as simplistic as possible without becoming a standard mechanical keyboard. We also wanted to optimize it for aesthetic customization; therefore added a border from the bottom case around the entire keyboard, imagine changing the color.
Tenkeyless (TKL, a.k.a 80%) keyboard
Easy to bring to LAN parties or tournaments
Requires less desk space
Has all essential keys w/o too many layers
Great mouse-keyboard hand distance
Gaming use: As gamers ourselves, during long gaming sessions with full sized keyboards it would end up skewed to make space for all our mouse movements and close hand-to-hand positioning. Also when we analyzed which keys we'd actually use during gaming (and in-game typing) we were able to drop everything starting right from the Enter key, but everybody has his own preference.
Especially for Professional use, we noticed that everybody has his/her own way of using a keyboard. What may seem useless keys to some people, are still essential to others. Therefore we couldn't start throwing out all the keys, besides we're not developing a new standard. We felt that a TKL keyboard would hit the right balance between useful keys for gaming and typing/coding.
Floating Keycaps
Modern look and feel
Easy to clean
Less parts to worry about
These choices came from our mechanical keyboard fan-side. The floating keycap give that modern look to it, and slight gamer aspect. Besides, it's easy to clean; you don't want to start harvesting creatures of the dark in your keyboard with all the crap that drops in between.
MX Keycap mount in an ANSI US-layout
Customize with artisan/custom keycaps
Most common international lay-out
Most keycap compatibility
We're big fans of artisan, customized or replaceable keycaps and believe it can give your keyboard more character. We concluded that an ANSI US-layout keyboard with cherry MX mounts would provide the highest amount of keycap compatibility. Note: This doesn't mean we're using Cherry MX, or Chinese copy switches.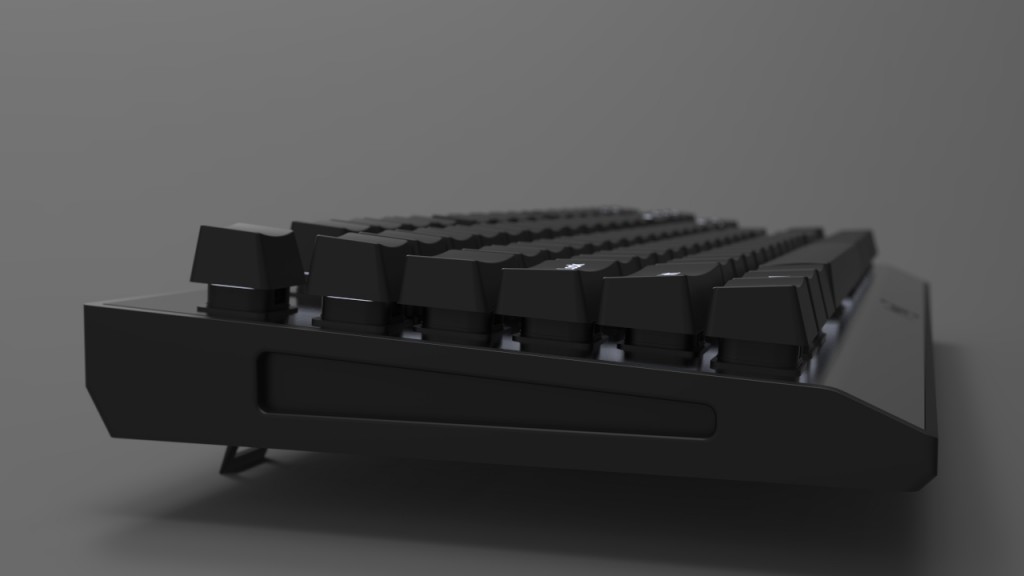 Contour Keycaps
Comfort & ergonomic
Easier hand coordination
Speaks for itself
Side profile
Functions as a grip
Adds dynamic
Robust feeling
The real challenge for us was to find a good balance between a gaming and professional mechanical keyboard while creating our identity design. As you can see from our brand, it's quite simplistic with strong corners and thick lines. We felt that the keyboard had to resemble this without becoming too rugged.
Detachable USB
Use any mini-USB cable
Easy to pack and go
Cables break, keyboards don't
The bottom speaks for itself, we didn't want to add too many frills and only add the essentials. As you can see it has anti-slip on the corners, flip feet with anti slip and a detachable USB cable that can be routed in the back of the keyboard.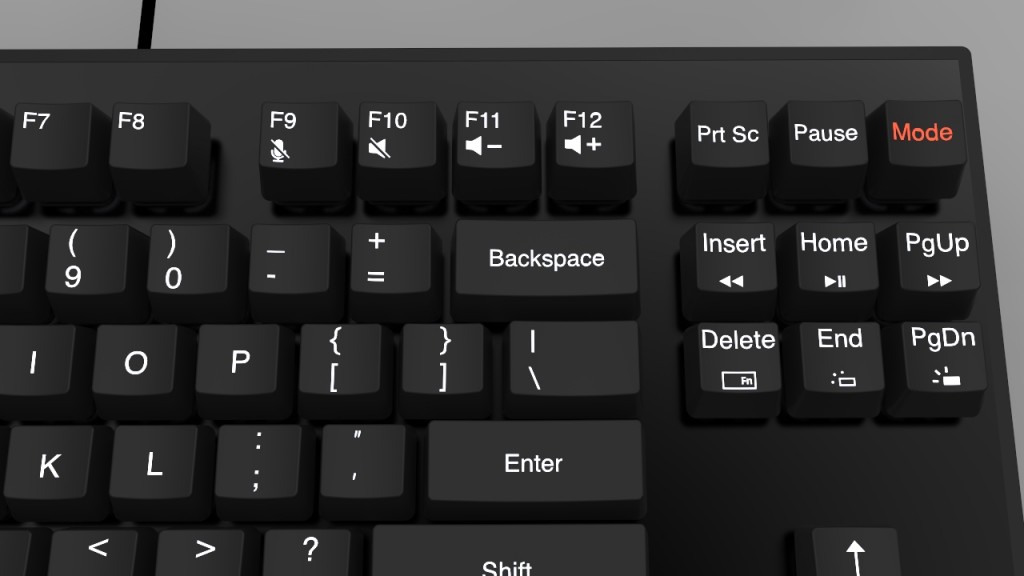 Function keys & Mode key
Threw out the scroll lock for a special "Mode key"
Optimized Fn layout that makes sense
Let's play a Dora game. Next week's topic will cover the function keys and other special key features. Until then, can you figure out what every function key does? Leave a comment below.
We're really excited about the keyboard design, and hope you have mutual feelings about it. In either case be critical, be harsh, but be fair and share your opinion with us.
Share your opinion
Ps: press the logo on top, to find other developer blog posts